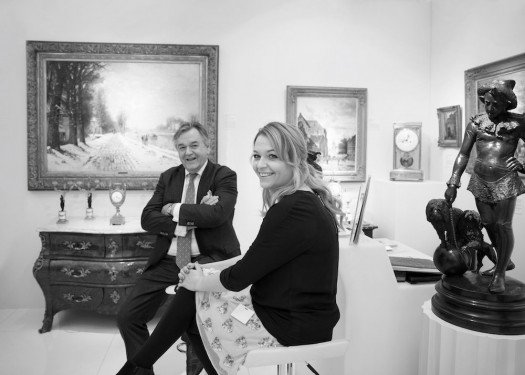 DAATSELAAR, SINCE FOREVER
Daatselaar The Collection emerged from Daatselaar Fine Art & Antiques, founded in 1978.  Theo Daatselaar then started the company as an antique dealer together with his business partner at the time, Ronald Godhelp. They opened their doors in Utrecht on the Korte Jansstraat 17-19 which is just around the corner of the new location!
In 2008 Ilse Daatselaar decided to follow in the footsteps of her father and joined in the business. Growing up between art and antiques, she has always been fascinated by the high-quality objects, by their beauty, their uniqueness and the stories that lie behind them. And it turned out that she has an undisputed taste and talent for treasures from all over the world and a commitment for excellence. Together they formed a dream team, complementary to each other, for many years. In this period the gallery moved from Utrecht to Zaltbommel.
Daatselaar exposes at exclusive international art fairs, such as TEFAF and PAN Amsterdam. Anyone who has visited these fairs and met them there, must have experienced their extensive knowledge and strong network in the field. But must have also felt their passion and welcoming warmth.
In 2016 Ilse was asked to become one of the experts on a very well viewed national TV program called 'Van onschatbare waarde' where participants try to sell a unique object and the experts hope to find pieces of priceless value. This made Daatselaar known to an even wider audience.
When Theo Daatselaar sadly passed away last year, he was still very much involved with and committed to the company. His hand can unmistakably be recognized in the collection as it is. Ilse Daatselaar now carries on with the business, building on this beautiful legacy.
In the past few months she started to rebrand and renew the Daatselaar brand, To become even more relevant in this day and age and appeal to a new generation of fine-art and antique lovers. For example by showing how antiques can really enchant even the most modern of interiors,
This also resulted in a new online strategy, website and social media presence and ofcourse the brand new gallery, that recently opened its doors in Utrecht, just around the corner of where it all started! Completing the circle.
But some things never change…  Daatselaar offers her clients worldwide, a wide range of high quality pieces, from Old Masters to 19th, 20th and 21th century paintings, 18th and early 19th century furniture, European and Asian ceramics, sculptures and silverware. The collection shows that they are exclusive generalists and Daatelaar strongly believes "A thing of beauty is a joy forever"
shop items from this post